Thetford Garden Centre wins the Independent Award
Thetford Garden Centre is the worthy winner of the Independent Garden Centre Caterer of the Year Award in the Garden Centre Catering Awards 2023

Nov 6, 2023
Thetford Garden Centre, the winner of the Independent Garden Centre Caterer of the Yea Award, operates from a 215,278 sq.ft site that is conveniently located a short car ride or a brisk 10 minute walk away from Thetford town centre, Thetford Garden Centre was originally established in 1982 by Jean and Paul Nixon, who, despite having no previous experience in either the retail or horticultural sectors, began trading from  old vehicle servicing units that were later complemented with the addition of a greenhouse. Their early success soon indicated that a change of location would be necessary and accordingly, the business moved into its current purpose built premises in 1992. With 12 family members – including Lucy, the Nixon's daughter, who is now the managing director - involved in the centre at one time or another, it remains resolutely independent. 
The store offers  plants, gardening accessories, aquatics, gifts, clothing, plus everything that is required to create comfortable and stylish indoor and outdoor living areas - there is even a mini food hall! But the area that most delights visitors is the Lime Kiln Kitchen restaurant, which has been significantly extended over the years. Decorated in a style that is ldescribed by Lucy Nixon as 'Colonial, meets Victorian, meets Art Deco, the main part of the restaurant sports a feature fireplace and plump leather chairs and sofas. It is further complemented by a vast glass sided room with a wraparound veranda, that comes into its own on sunny summer days.  With a pleasing view across fields and glass doors that open on to the substantial outside planting area, this too features a huge working fireplace that ensures that this area is as warmly welcoming in winter as it is light  and airy in summer.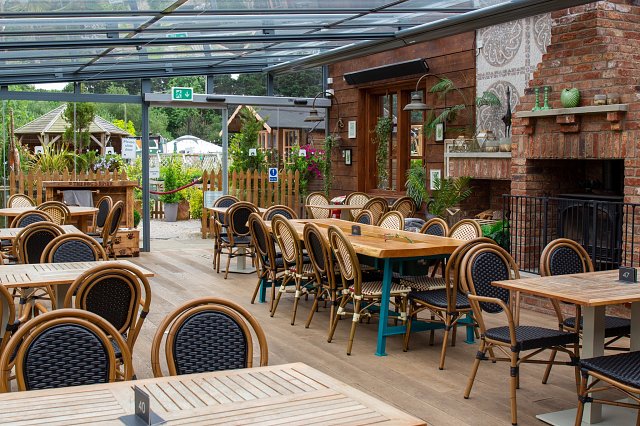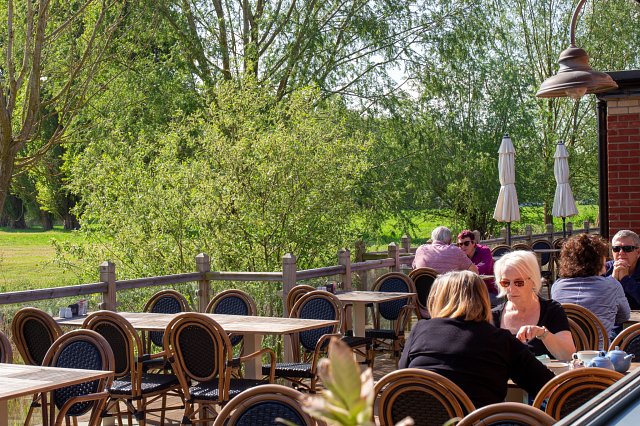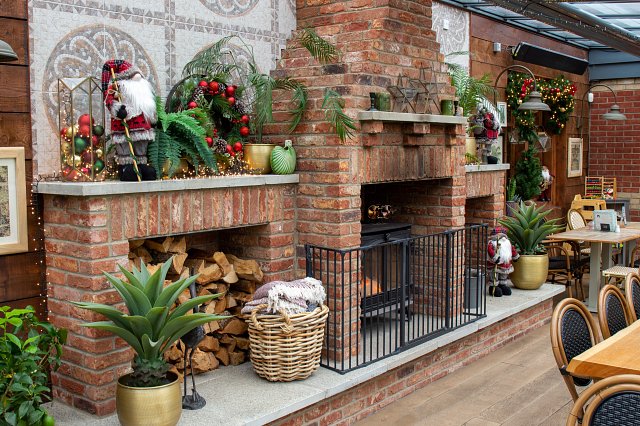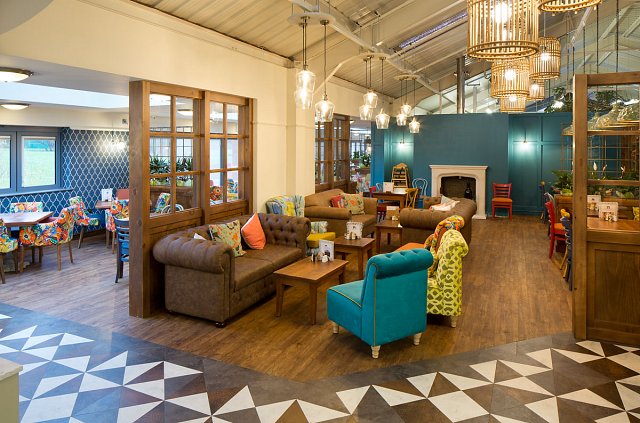 Thetford employs 34 catering staff, including four chefs, who provide an endless stream of cooked breakfasts, light lunches and afternoon teas, plus the obligatory roast dinner on Sundays. The breakfast menu includes the legendary full English, with both vegan and vegetarian versions, together with lighter options including avocado and poached eggs on sourdough and egg based dishes such as Benedict and Florentine. Another morning favourite is the American pancakes with either sweet or savoury toppings.
As well as the ever-changing daily specials menu, lunchtime fare encompasses sandwiches, jacket potatoes, salads and such specialities as savoury filled scones, plus a whole selection of freshly baked cakes, tempting deserts and plenty of choice for those following gluten free and plant-based diets too, In addition, children have their own dedicated menu. Afternoon tea can be experienced in Isabella's Tea Room, a converted garden room which is located. outside in the planting area, just a few steps away from the restaurant, It seats up to six, features a charming selection of vintage china and can be booked by anyone who wants to enjoy thei teatime treat in a private – or romantic – space.
At the bottom of the planting area, there is an outdoor eating area and a large yurt, which, from April to October, weather permitting, comes into its own on Late Night Fridays. Here, customers can enjoy pizzas, waffles, ice creams and drinks courtesy of the Norfolk Pizza Co, whose menu includes such toothsome delights as the Nelson, a hand stretched pizza topped with crab, chilli and garlic prawns, Norfolk mussels, leeks and mozzarella or the Tom Paine with Norfolk fennel, Norfolk pepperoni and mozzarella.
The Lime Kiln Kitchen's welcoming ambience, together with the quality of its food, has helped to establishThetford Garden Centre as something of a destination venue and, at a time when many independent garden centres are feeling the pinch caused by the current inflationary pressures, as well as competition from  larger chains, the judges were  heartened to see that Thetford Garden Centre is not just surviving, but thriving too, while also serving as real community hub for the people of Thetford and offering a delightful restaurant into the bargain.
Garden Centre Caterign offers Thetford Garden Centre and its catering team the heartiest of congratulations - it deserves them!
Thetford Garden Centres features in the winter issue of Garden Centre Catering
You may also be interested in…