Case Study: Bents' Garden and Home
Bryony Reid visits a family-run garden centre in the heart of Warrington boasting waterfall-filled gardens, a pet café, and a history of passionate coffee and honest cooking

Mar 21, 2023
If you're up north and on the lookout for excellent dining options, a place where you can bring your beloved canine friends and want to scope out the best gardening products the market can offer, look no further than Bents.
This garden centre is cupped in the hands of the Warrington countryside, settled along the Leigh End side of East Lancashire Road, sprawled out alongside a pumpkin patch, a tearoom down the road, and a lovely mini golf establishment. It's safe to say that Bents is an empire, with a conservatory showroom at the back, five dining areas to choose from, a massive nursery, and gift shops galore. From the gelato stand to the Pet Café, Bents has much to offer any wandering plant enthusiast to break up their day with tasteful snacks or sit-down meals.
As a frequent customer of Bents over the years, I knew I wanted to feature them in this magazine. It's a place I know and am fond of, but hadn't had the chance to visit since pre-pandemic times.
A BLOSSOMING HISTORY
Anna Ellam, a spokesperson for Bents is the one who talks me through Bents' history.
"The origins of dining at Bents date back to 1981 when The Balcony Coffee Bar was opened. It was originally opened to sceptical comments from the industry, but despite this feedback it quickly established an excellent reputation for quality homemade food, wonderful flavours and speciality coffees," she explains. "Bents remains a family owned and run business now in its third generation, headed by Matthew Bent and supported by sisters, Helen, Katherine and Rachel all of whom work within the business. Before becoming managing director, the business was run by Matthew's parents, Ron and Wendy Bent and Ron's brother John, who together started the journey from a small rose growing business to what is now a multi-million pound operation."
I took my Bichon Frise, Polly, when I visited so while she was restricted to pet-only areas, I was able to explore Bents' full catering offerings. While my dog had a sniff about and met some furry friends, dog-sat by my mum, I had a look around the food counter and was served by two lovely staff members who were very patient as I scoured the menu. Only one of the five eating outlets, the Pet Café offers high quality sandwiches and sausage rolls that don't quite meet the ordinary boundaries of a pastry, with its circular flat shape full of meaty goodness and crumbling pastry. While I wasn't brave enough to take on such a mammoth roll and opted for a light sweet treat instead, it did look delicious!
Chairs and benches were set out alongside intermittent dog bowls filled with water and with a choice of two, three, or four to a table, dogs are able to roam about as they please. The staff greeted visitors (both human and canine) with welcome smiles and fuss for the dogs.
BUILD-A-SANDWICH
Bents' catering services comprises of five eateries, accessed by different entrances and sectioned off to allow for a more exclusive dining vibe. While the Pet Café has a selection of what is offered when you wander further into the other cafés, the towering scones and slices of cake can be found elsewhere if you don't fancy wagging tails hitting your leg as you have a snack.
Ellam tells me how Bents "when the Balcony Coffee bar opened in 1981, Bents Coffee and speciality scones were introduced.
"We continue to make all our scones to the same secret recipe that has been passed down to our bakers and sell around 1,500 per week."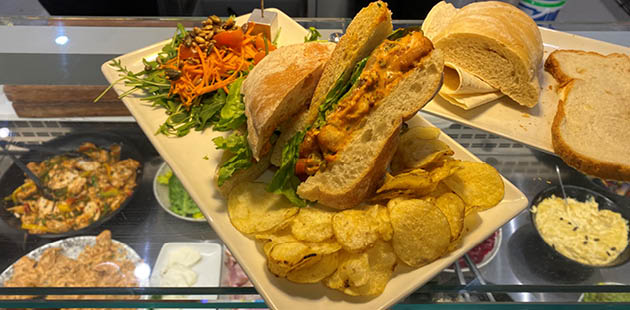 Chicken Chipotle sandwich at Bents' The Fresh Approach restaurant, complete with a side of crisps
The Fresh Approach Restaurant, opened in 2001, is the hub of activity that customers at Bents might be most familiar with. Seating more than 480 people, one of its jewels is the build-a-sandwich bar with a range of fillings, salad. That is enough to entice any shopper to take a break and indulge a little. Curving around the counter is the gelato bar that brings a taste of Italian sweetness in a whole selection of flavours. However, if you're looking for something a little heavier for your dinnertime plate, the hot food bar has daily specials and a baked mac n' cheese that looked ridiculously good. However, if you're an early riser, you'll want to check out the full English this restaurant offers before 11:30am.
In 2007, the restaurant extended into the other eating areas that, in total, create a potential 993 covers.
Caffé nel Verde was, unfortunately, closed when I visited but it entices customers with breakfast, pre-packaged sandwiches, and, again, a selection of exquisite desserts as well as various afternoon tea options.
Alongside the nursery, tucked away, is the Tapas Bar, which complements Bents' new wine-tasting area in the food hall. Mexican cuisine with a glass of wine, anyone?
For a more relaxed, quieter dining experience is the Café Bar, which serves Bents' famous doorstop toast, home bakes and patisseries.
"One of the features we are most proud of is that all our food is freshly prepared here on the premises, using fresh and wherever possible, local ingredients," says Ellam. "From patisseries, cakes and homebakes to all our soups, hot counter offerings and ice creams, everything we sell is created and made by our talented team of chefs. We believe we provide a fresher, better served offering to high street options. It's not about brands, instead we focus on quality and service."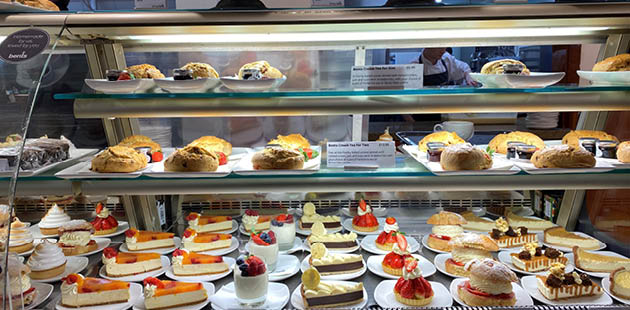 All eateries at Bents boasts a selection of homemade desserts
COMMUNITY IS THE KEY
The atmosphere in Bents is open and comfortable, as it's a garden centre where visitors can leisurely stroll at their own pace, explore the sensory Open Skies Glass House, and surround themselves in the blooming flowers and plants in the nursery. It's clear that community is big in Bents, as not one staff member forgoes a warm smile in passing, and chalkboards are up everywhere with the staff's own advice on gardening and dining. All staff undergo 'Exceptional Welcome' and 'The Bents Way' inductions, which welcome employees to the company and communicates the key messages of the garden centre. All employees complete e-learning before breaking into their respective departments and specialities to complete further tailored training.
DESTINATION BENTS
A lot of buzz has been created around the Jurassic Cove Golf Café. While I didn't venture over there during my visit because, quite embarrassingly so, a golf course intercepted with life-sized dinosaur animatronics gives me the heebie-jeebies, the heads of several dinos can be seen from the Open Skies. The area overlooks a lake and gives a chance for kids to play and letting parents hit the pause button for a while. Decorated with a waterfall and 18 golf holes to have a go at, the course also features a giant whale statue and a tunnel for kids to get their fill of fun with.
In the surrounding area, Bents prides itself on the Weeping Ash Garden, one of Cheshire's 29 Cheshire Gardens of Distinction. Created by retired nurseryman, John Bent, it brings tranquillity and clarity to any walkers.
"Garden Centres have come a long way but there is still sometimes a pre-conceived perception of garden centre dining, with the image of a small coffee shop in the corner," says Ellam. "But, although the garden remains a huge part of the business, most centres are no longer focussed on plant sales alone.  The industry has had to diversify and offer something different, become a destination where people can spend the whole day and catering is a vital element of this. 
We want our customers to have a choice of where to dine, somewhere they can enjoy having lunch with us but also where they can stay on to have an afternoon coffee. It's not just about providing a café in a corner, we must exceed expectations and make our dining destinations one of the reasons our customers come to visit us."
Bents has a fully interactive website where visitors can take a virtual walk-through tour of the garden centre and catering outlets within. The Open Skies area is also a hotspot for people to host functions in as it seats so many and has back-of-house catering facilities that can meet the high demand of guests. With a mixture of dining-related events, as well as in-house promotional ones, Bents can see any evening through with a bang.