Case Study: Dobbies
Development chef Adam Veysey talks about Dobbies Garden Centre in Liverpool, filling us in on seasonal dishes, in-house favourites and the excellent opportunities the garden centre provides

Jun 15, 2023
Situated a stone's throw from the bustling John Lennon Airport, Dobbies in Liverpool is a glasshouse-style building, housing the best of the best that a garden centre can offer. With a range of garden furniture, a bookshop-like section, a Sainsburys outlet, a butcher's counter, a farm shop, and its own restaurant, Dobbies has everything to offer a keen shopper wanting to be indoors on a rainy day.
However, for those seeking to soak up the rays of sun the UK has been fortunate enough to see recently, outdoor dining is open for business. Dobbies has taken over the UK as one of the top operators, building an empire of garden centres from city to city. The site in Liverpool is a sprawling world in its own.
BUILDING BRICKS
As many shoppers who frequent garden centres know, Dobbies is well-known, a household name amongst those with a keen green thumb. With over 76 sites across England, Wales and Scotland and more than 4,000 staff members in its employ, Dobbies was founded in Renfrew in 1865. James Dobbie merely began a business selling seeds and when the customer base grew, he realised there needed to be a site to conduct business. 
In September 2011, the site in Speke, Liverpool, joined the roster of the company's garden centres dominating the UK. For 12 years, the site has done its part to be a pillar of the company's mission, which is to "exist to enrich people's lives and nurture connections between people, the community and the environment".
Equipped with energy-efficient lighting, rainwater collection processes and sustainability-sourced wood, the Liverpool site is well-attended by the community. And, as one of the bigger operator names in the garden centre industry, it does see its fair share of competition!
A SUMMER LOVIN' MENU
As with many garden centre restaurants, Dobbies ensures that its menu rotates quarterly to include seasonal-based dishes and drinks. With an extensive dessert menu and a hot food counter, the site knows how to conduct its restaurant, with many front-of-house staff on hand to assist customers at every section.
Approaching the restaurant through a wide, open archway, customers are immediately greeted with a cold display counter where a range of cakes are already served portioned and plated. The selection ranges from millionaire shortbreads, cherry Bakewell slices, as well as covering a range of cakes that include the traditional, beloved Victoria sponge, chocolate fudge, red velvet and carrot. Across the way, all a customer has to do is glance to the right and they are greeted with Dobbies' famous scones packed with cream in an open display.
"You can't beat our scones, they really do take the crown," says Adam Veysey, development chef at Dobbies. "Our scones are made from scratch, fresh on site every single day and come in a selection of variants, including plain, fruit, cherry and cheese."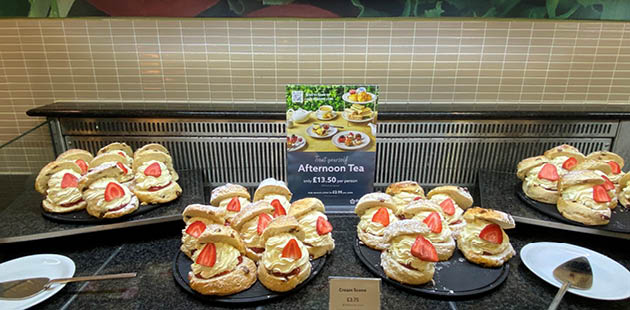 Dobbies' scones are highly popular in both afternoon tea and as a single treat with a hot drink
As a staple of afternoon tea, which the restaurant also serves in a delightfully fancy manner, the scones are as enticing as ever.
Moving past the first dessert section – because there is truly more than one, this place knows how to dessert! – customers are invited to check out the soup bar with a choice of two different soups of the day, freshly made and served with crusty bread and butter. Behind the counter, staff are always ready and waiting to help out and serve.
Staff training is clearly at the forefront of the restaurant, with plenty of front-of-house staff manning each section, ready with a smile and easy manner, as well as back-of-house staff members making an appearance to ensure all cutlery, plates, and the food dishes are refreshed when needed.
To complement the soup, a customer then approaches the sandwich bar, where fresh baguettes are pre-made, waiting for someone to snatch them up and enjoy. With a range of fillings, there's no doubt about it: a soup and a sandwich would be the perfect midday light bite for any garden centre shopper to treat themselves and take a break.
But for those wanting to sate their hunger a little more, Dobbies doesn't save on the hot menu. Leaving nothing to be guessed, the restaurant invites customers to peer through the hot display counters to view the hot food just waiting to be plated up.
From a gloriously baked mac 'n' cheese to a pulled beef chilli con carne, there's a whole range of firm favourites.
"Personally, my favourite dish on the current seasonal lunch menu is definitely the sweet potato pakora kebabs, which is a vegan choice that comes with a bed of wild rice, a naan and houmous," says Veysey, commenting on the seasonal hot food menu. "We experimented with a new sweet chilli sauce for this dish and it's truly something else."
It's quite refreshing to see a chef have a tendency towards a vegan dish, finding it a creative, boundless medium to provide elevated taste with, rather than feeling restricted when working with vegan-friendly products.
"My all-time favourite dish, no matter the season, has to be our classic Dobbies fish and chips," Veysey goes on to state. "The tasty and lightly coated sustainable haddock in a crispy, gluten-free batter, comes with chips, tartare sauce and the choice of either garden or mushy peas."
On top of this, for diners looking to delve a bit deeper and have multiple items on their plate, the restaurant has a specials menu consisting of premium puff-pastry pies, as well as a generous helping of fillings for jacket potatoes – and paninis and toasties to complement the light bites menu.
Using locally-sourced British meat, fruit and vegetables, Dobbies brings a well-loved seasonal menu whether the sun is cracking the flags or the leaves have left the trees bare in the winter. From drinks to hot food, the business seems to have it figured out.
"We love to offer seasonal dishes, so we can give customers new options to try when they visit our restaurants," Veysey remarks. "These seasonal specials complement our core menu, using the best fresh produce and seasonal fruit and vegetables. It's important to us that we implement these values in our business."
For those wanting to venture onto their day without missing out on the wondrous offerings, Dobbies in Liverpool offers take-away coffee and desserts, and is looking to expand its take-away services. Stay tuned for the hot stuff!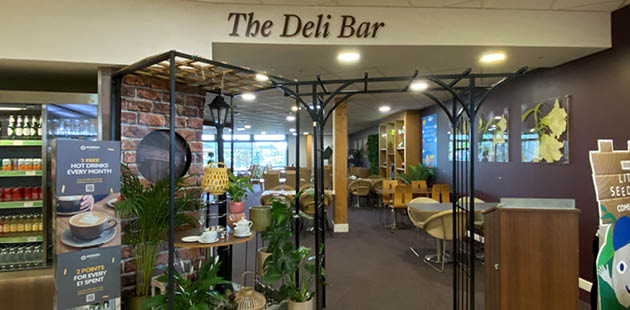 The Deli Bar is one of many seating areas, including an outdoor dining section
FROM STAFF TO CUSTOMER
Training is important, now more than ever in hospitality. With younger generations entering hospitality, the industry remains as one of the most popular for 18- to 21-year-olds to get into as their first job, operators must be offering a high-quality training programme to encourage younger employees to give their all to their work. This provides that dedication and loyalty to the company.
"We offer some fantastic chef training sessions for every new seasonal menu launch," Veysey explains. "Our chefs are all brought together for these sessions so we can showcase our new menu choices. This allows us to show everyone how these dishes are made to the consistently high standard we like to deliver across our stores.
"We also have barista training and have a whole host of training videos and online training content for our team members."
With more and more students as young as 17 are seeking cooking classes or apprenticeships, it's important to offer them all the support needed to develop and grow as a chef. In a place like Dobbies, where chef training on the job is offered, and specialised skills are nurtured for the industry, cheffing skills are aplenty. Two-thirds of chefs are aged 30 and younger, it is now becoming an increasingly popular career to pursue. This gives a large age gap, proving that the industry is a place to stay working in.
However, the rising demand for chefs has come with the parallel rise in customer demand for quality and the quantity of visitors. Many people are making the most of life outdoors, and Dobbies has three separate dining areas to accommodate a larger customer base. Along with the rise in customer numbers, their requirements have also evolved and grown with times.
"Customer demands are always evolving and we will always do our best to move with these changes to make sure we deliver dishes our customers want," says Veysey. "We can adapt to allergies or dietary needs, and are constantly looking at ways to expand our menu, offering gluten-free options, alongside vegetarian and vegan choices."
NURTURE AND NATURE
No matter what a person is venturing through Dobbies' doors for, they can be rest-assured that their every gardening or hunger desire will be well and truly sated.
As a parting note, Veysey leaves a last comment on the value of garden centre catering outlets: "Our restaurant offers customers a place to relax, spend time with family members and enjoy a bite to eat. We offer customers the chance to enjoy eating out for less to make our offering inclusive for all."
For the horticulturists, Adam Veysey also features on Dobbies' 'Grow Your Own' podcast, alongside its horticultural director Marcus Eyles bringing the key value of horticulture mixed with catering.
dobbies.com/podcasts
You may also be interested in…