Case Study: The Potting Shed Café
Looking for an award-winning independent garden centre café? The search is over

Nov 14, 2022
The story of The Potting Shed Café starts as any other: with a miniature railway. Or rather, it seems this is how most should start, since the entire ethos of the café, its owners, and of Russells garden centre is one of community, support and giving back. Oh, and did we mention the food is delicious? 

Lou and Rob Richmond have been close to the garden centre since 2018, when a new community group was formed to build and operate a miniature railway, supporting memberships from vulnerable, lonely, or otherwise isolated persons. Here all enjoy teamwork, community spirit, and the rewards of coming together in a project for the greater good of the area.

It wasn't until January 2022 that they took on the café – and it's been non-stop ever since. The first order of business was to refurbish the café and rework the layout. 

Cosmetically, the café aims to blend in with its surroundings and has a very rustic feel to it. Inside are reclaimed wooden shelves and kitchen units, hanging plant pot lights and old tractor lights, wooden tables and seating. The indoor ice cream counter was removed and replaced with and breakfast bar made from reclaimed scaffold boards, stained using used coffee beans. This increased the cafés capacity, and with repairs to the outdoor structure enabling an outdoor seating area the café can now cater to 75 covers.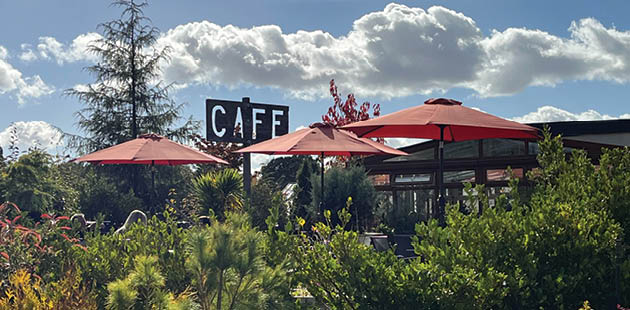 Blending into its lush surroundings

"We get a lot of lovely comments from customers about the café décor and all of the refurbishment work was carried out by friends and volunteers, along with our 17-year-old son James who got stuck in and learnt lots of new skills," says Rob.
What's cooking?
Alongside these renovations, the Richmonds were also busy planning a new menu. "We are passionate about our food and are constantly looking for and trying new things," says Rob. 

In addition, the Potting Shed's cook Lisa is demonstrably passionate about vegetarian and vegan cooking. Rob says she is always surprising them with new and exciting specials for the day. 

"She is relentless in her quest and understands thoroughly what customers want," he adds. The café has a wide section of gluten-free and vegan delights, including sausage rolls, breakfasts, cakes and brownies.

We can speak highly of the Snickers brownie, and – although not vegan – the honey and mustard sausage roll is sublime (but will ruin all other sausage rolls for you).

Since taking on the café they've been active on social media, and were inundated with suggestions for what to incorporate into the menu, such as a free-from offer. 

"We have customers asking us daily for free-from products and it's a pleasure to be able to provide for them," says Rob. "Lou and our baker John are always experimenting and trying new gluten-free and vegan recipes with their own twist – quite often customers cannot believe it is not the real thing as it tastes so good."
Sustainability 
It's clear from the whole smiling team that they have a real passion for what they do, and this shines through in their creations. Everything is homemade, save for the bread which is delivered fresh from a small local bakery daily.

The Richmond's strive to use local suppliers wherever possible, and in fact I've never seen quite such a local supplier for diary – with the milkman based within the garden centre. "We can just go and help ourselves if we run out in the day," says Rob. 

Their artisan coffee is from a few miles down the road, which is not only used for their delicious drinks made on site, but the café also sells retail bags for customers.

Any surplus food at the end of the day it's taken on by the staff, but when it comes to food waste the café has a rather unusual method of disposal – and it comes in the form of Russells' blue feathered friends.

"We feed it to the peacocks!" laughs Rob, further feeding into the notion of the café and garden centre's circular sense of community spirit.
Community is at the heart
Community really is at the core of both this café and the garden centre in which it's situated. Running craft nights and an astronomy night for the local community, this is just the tip of the iceberg when it comes to creating a sense of togetherness. 



Russells' manager, Tim Jardine

Jardine (pictured), says: "We're all about the community. Just last year we raised £36,000 by collecting Christmas trees – and the mulched trees were then used in the community's gardens."
Seasonality
Along comes the cold and it's out with the ice machine, in with the soup terrine. Rob says: "Later this year we are looking to introduce pie and mash meals with a variety of pie flavourings to suit every customer and Sunday roast plates."

Garden centre trade notoriously fluctuates through the year as people trade soil for sand, limiting their digging to the realm of beach sandcastles. Eager to fill the troughs of trade, The Potting Shed works with local businesses in the off season. And supplying food to C3, a local community centre café, as well as the Belgrade Theatre in Coventry and Arden University has certainly kept them busy, with Richmond saying that prior to the summer holidays they catered for 150 for an open day at the university. 

"All these have only been possible because key decision makers have been to the café as customers and loved everything about us," says Richmond. "It's about diversifying and keeping all the staff busy – by keeping them busy we get to keep all our lovely staff that we've nurtured."
Staff support
"We have a great working relationship with all our staff and always put them first," says Rob. "We entrust, empower and positively encourage our staff to step outside there comfort zone and believe in what they can do."

They teach baking, give barista training, and training on the till as well as for front-of-house service. But this support goes much further than training. 

"What's most important to us is that everyone feels happy in their work, with a well-balanced workload, and great support when needed," continues Rob. "We will give staff and a partner or friend a meal out on us if we feel they need a hug or have achieved something wonderful that needs acknowledging. We also try get everyone together on activities or evenings out to improve moral and socialise in a less hectic environment."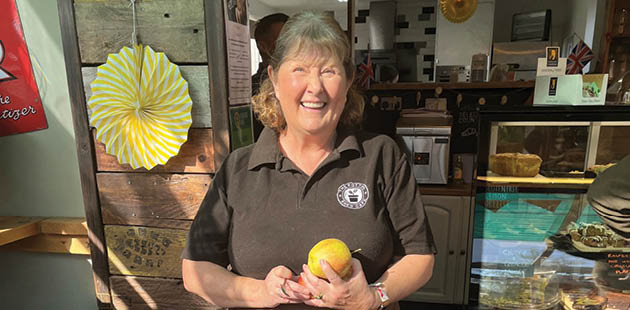 Kim Cockerill from the Potting Shed team with some freshly-scrumped apples

The café works hard to employ local people, support those with health and mental health issues, and support local charities, such as Pass The Smile For Ben, which raises money for children's cancer charities, and Memorable Blooms, which gives a percentage of its profit to the Alzheimer's Society. The café also supports local craft and charity groups, with space and meal deals to support group sessions.

It's little wonder The Potting Shed Café won our Independent Garden Centre Café of the Year Award, and we look forward to hearing more from them as they grow. 
You may also be interested in…