Feature: Afternoon Tea
From scones to macarons, afternoon tea is a top summer alfresco go-to. Open up your outdoor dining area and serve afternoon tea with a trendy flourish

Jul 13, 2023
Summer is for being outside, enjoying the sun, and what better way to serve customers than with an afternoon tea? Garden centres are known for their scones filled with clotted cream and jam. Add in bite-sized desserts and sandwiches, and a quick snack becomes an occasion.
Afternoon tea is always growing in popularity and still tends to have an air of elegance about the way it is served This is an advantage operators can use to make their display stand out from the rest.
TIME FOR TEA
Afternoon tea is a hot topic, as more operators are seeing the appeal of adding it to their menu. While it isn't a new concept, the way afternoon tea has changed through the years has updated with the times.
A staple of English culture, afternoon tea dates back to the 1840s, when the Duchess of Bedford was hungry after lunch, before her evening dinner. Tea was served on a tray in silver pots and bone China cups. This was accompanied by bread, butter and cake, soon became a habit for women to dress up in their best and gather.
Of course, these days it's less likely you'll wear elbow-length gloves while eating or drinking but afternoon tea remains considerably 'fancy'.
We've evolved past sandwiches with only cucumber as a filling, now having cheese and chutney, ham and tomato, and egg and cress. These are the most common sandwich fillers, and trends seek to make more out of the tasty occasion. Macarons have also been another addition, bringing colour and sweetness to afternoon tea.
The tea, previously only imported from India or Ceylon, has also seen a shift into modern times. The silver pots have gone, replaced with a more popular ceramic. Fruit-flavoured and alternative teas are common on the menu, mindful of special dietary requirements.
"Menu boards are now filled with different types of coffee and other hot drinks, from traditional filter coffee all the way through to mocha and caramel frappe serves," Michelle Younger, marketing manager at Horlicks. "In the hectic rush of modern life, malt tea remains as richly warming and comforting as ever. It's high in calcium, zinc and vitamins C, D and B12 and can be a firm favourite among afternoon tea consumers."
While many afternoon teas are traditionally served with a pot of clotted cream, jam, and plain scones, adding something extra can start creating a 'signature' display for your garden centre. Modern times have seen the addition of cheese-baked scones. Often topped with crème frache and a strip of salmon, zested with lemon, it's become a loved savoury element. 
The popularity of afternoon tea isn't slowing down anytime soon. Whether it's served in indoors or outdoors, presentation and food can always be elevated.
TYPES OF TEA
It's time for operators to get creative and adapt to appease various audiences. When you often have three tiers of food to work with, you can be as traditional or as alternative as you want. 
"Traditional afternoon tea typically includes finger sandwiches, scones with jam and cream, and a selection of cakes and pastries, served with a pot of tea," says Younger. "However, savoury afternoon tea can be for those who prefer savoury snacks. A garden centre might offer a selection of savoury finger sandwiches, quiches, and other savoury treats, served with tea, providing a fulfilling afternoon tea spread."
For garden centres catering for families, consider adding a children's afternoon tea. This can consist of jam-filled sandwiches, fairy cupcakes and fruit juice. There are plenty of ways to tailor an 'adult' afternoon tea to make it child-friendly with a few tweaks.
"Theme your afternoon tea for different occasions like the summer solstice, Halloween or Christmas," advises Marie-Emmanuelle Chessé, international development project manager at Tipiak. "And be sure to cater for your guests with dietary requirements so that they don't miss out."
Having a vegan spread is important to make sure your afternoon tea is inclusive of dietary requirements. Ensuring it's prepared and served separately if you're also catering for any other customers at the same time is the main thing to remember.
"The sweet side of afternoon tea has always featured a range of pâtisserie like macarons and pop éclairs," says Chessé. "But this seems to have been changing in recent times, with the introduction of a greater variety of savoury ingredients, such as mini sausage rolls or wraps."
Including three or four afternoon tea options can be a way of keeping customers interested and coming back to book in for a special occasion. Having a birthday-themed afternoon tea can be a great option, as it is commonly used as a celebration for birthdays and will often bring in larger groups to your garden centre.
Aiming at consumer groups, such as children or vegans, plus themeing your serves, can ensure a well-rounded afternoon tea menu. Content is key, even down to choosing flavours and colours to match the season. Pick out the lemon or strawberry macarons for the summer displays, or go for the chocolate-based ones during autumn. This can give your afternoon tea a wonderful seasonal rotation boost to keep it fresh.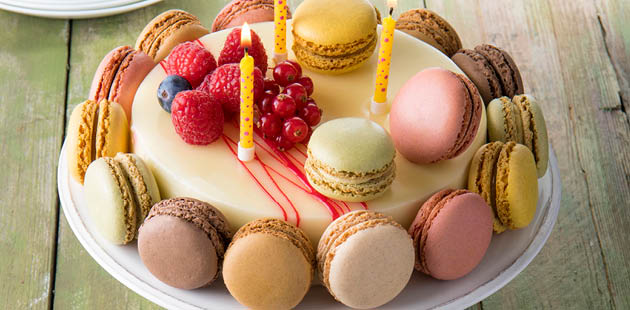 Tipiak's macaron birthday cake is the perfect celebratory treat
PUT YOUR BEST DISPLAY FORWARD
A lot of the culture surrounding afternoon tea is how finely it's presented, such as doilies on the plates and ornate teaspoons. A lot of operators opt for edible sugar flowers to bring a little something to add a pop o colour to the more 'beige' tiers. Bite-sized finger food makes for a delicate aesthetic that is sought after. Due to where the afternoon tea concept originated, the flair is quite important. Tiered stands are helpful when it comes to a group booking and can lay out the tea in a way that is easy to admire.
Garden centres are finding ways to get creative with their displays. Some opt to serve up on compact shelves where the food appears dainty; small helpings but plentiful overall.
From wider plates filled with sandwiches and savoury items, to smaller plates for cubes of cake, afternoon tea displays are what you make of them. Operators aim for Instagram-worthy displays by keeping them colourful and open, so all levels can be admired.
Remaining true to the original afternoon tea, serving with silverware can create that final flourish.
"Cutlery and crockery must always be spotlessly clean, and having a high turnover is no excuse these days for providing customers with tea-stained cups or cutlery with watermarks," says Paul Anderson, managing director of Meiko UK. "The spotless and sparkling top-quality presentation will impress the bank manager and your customers, because spotless means less labour, less re-washing and so more money in the bank!"
Adding bunting to the stands brings splashes of colour. If it's a tea for a celebration or occasion, having themed confetti can be effective. For example, if a customer is booked in for a baby shower – as is quite a popular occasion for afternoon tea – offering coloured icing or napkins can be a way of maintaining themes.
A TEA THROUGH THE AGES
Although we've come a long way since the Victorian days of serving afternoon tea to high society ladies and nobles, the sentiment remains: afternoon tea is the perfect mid-day offering and can still be an occasion to dress up for.
We've gone from historical paintings of afternoon tea depicting Victorian women in their gowns with silver teapots, to Instagram-worthy cakes, delicacies and displays. Ensuring a varied range of special dietary requirement items are included on the menu will provide inclusivity for customers, no matter their requirements.
However you decide to create your afternoon tea, make it stand out from the crowd by adding a touch of your own garden centre to it. This can be homegrown edible flowers for decoration, operator-themed icing, or serving with a home-brewed coffee or tea. Afternoon tea can be vast and versatile while remaining true to traditional values and a popular English treat.
From bread and butter to packed sandwiches with a variety of fillings, afternoon tea has evolved and will keep doing so as long as operators are finding new and exciting ways to incorporate different ways of delivering and presenting bite-sized finger food. And if your operation isn't offering afternoon tea, why not trial it for a limited time to see how you can get creative? 

SUPPLIER CONTACTS
Horlicks aimiafoods.com
Meiko meiko-uk.co.uk
Tipiak tipiakfoodservice.co.uk
You may also be interested in…