Case Study: The Edible Flower
Meet Jo Facer and Erin Bunting, the couple who are taking edible flowers to a whole new level

Apr 14, 2023
Up in Northern Ireland, just south of Belfast, there is a seven-acre farm where wives Jo Facer and Erin Bunting run their own farm and have been cultivating edible flowers for many years. When Northern Irish Erin Bunting lived as an arts manager in London, on top of supporting small businesses, life wasn't as glorious as she would have loved it to be for her own artistic dreams. In 2016, she moved back to Northern Ireland with her wife to begin something creative, beautiful and seasonal.
Thus, The Edible Flower was created. It encompasses not only the beauty of the flowers grown but is quite literal. With flowers used in everything, from jams to decoration, the couple have formed a solid brand over the last seven years and have brought it into their community using the Community Supported Agriculture (CSA) scheme. Now, on top of their Farm & Feast —  a day where the community come to visit the farm and then share a lunch ­— workshops and supper clubs, they're taking the non-fiction world by storm with their co-authored book, The Edible Flower, named after their own operation.
Keeping it local
While a lot of the couple's own flowers and plants are grown and sold from their farm, there is certain produce, such as meat or eggs, that they must look elsewhere to acquire for their supper clubs if their own stock has been used.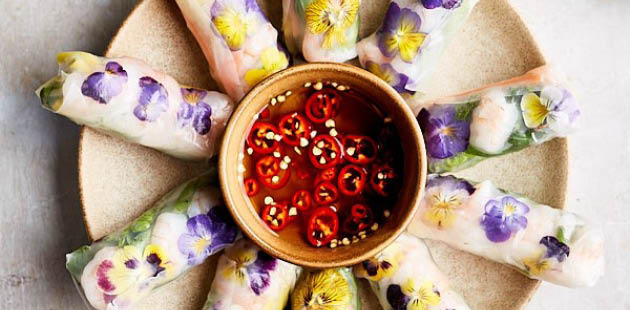 The Edible Flower's Vietnamese spring rolls with pressed petals
"We have a network of local farmers nearby who we get meat from, and also I have a couple of other vegetable suppliers who are local as well, so if ours isn't ready or has depleted stock, I would go to them," says Erin Bunting, head of cooking. "I think that's the way we should be going when we can, supporting local suppliers and trying to put seasonal things on our menu, having conversations with local farmers and creating that community."
However, all of the flowers used in Erin's and Jo's supper club dinners are homegrown. With a personal favourite dish being their Vietnamese summer rolls, filled with prawns, noodles, and charred pork, garnished with edible flowers, it's clear that flowers can be introduced to dishes in multiple creative ways. In their German biscuits, Erin explains how "pressed flowers go on top of the biscuit".
She further talks through some flowers used for icing: "Cornflowers for blue, hibiscus to make pink, and sorrel to make a lemon-flavoured green icing".
Look out, garden centres!
For garden centres, Erin shares some parting words for those who are looking into home growing supplies to save on costs: "You might be already growing flowers in your garden and you'll be surprised by how many edible ones are there, like lavender, rose, herbs, violas, pansies, daisies, marigold.
"The only thing is that you need to make sure that the flowers haven't been sprayed with pesticides or herbicides. Grow them organically so they're safe for consumption. It's not much effort to have that and elevate some of your dishes."
You may also be interested in…